By: Francine Foner, Esq. and Ty Hyderally, Esq.
The New Jersey District Court recently struck down a mandatory arbitration provision in an employee's offer letter because it did not contain a sufficiently clear waiver of the employee's right to a jury trial. Irwin v. AgustaWestland Phila. Corp., 2021 U.S. Dist. LEXIS 226623 *; 2021 WL 5506909 (D. N.J. November 24, 2021). On September 30, 2019, Kathleen Irwin was terminated from her position with AgustaWestland Philadelphia Corporation (AWPC) as a Transportation Security Administration Coordinator Worldwide, following her whistleblowing complaints concerning violations of Federal Aviation Administration (FAA) regulations.  Specifically, Irwin took issue with a pilot being granted clearance to use a flight simulator without proof of his United States citizenship.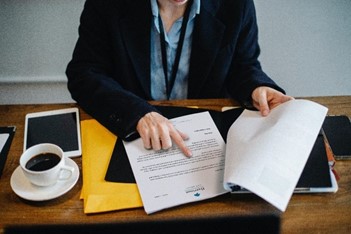 When Irwin escalated her complaints, she was warned to look the other way. When Irwin continued to raise concerns about the violations, she was terminated soon afterwards. Irwin then filed a complaint against AWPC and two of her supervisors (Defendants) in the New Jersey Superior Court, alleging that Defendants terminated her for "disclosing and/or objecting to Defendants' fraudulent and illegal activities" in violation of the New Jersey's Conscientious Employee Protection Act (CEPA). Id. at *2-3. After removing the case to the New Jersey District Court, AWPC moved to compel arbitration based upon the mandatory arbitration provision in Irwin's offer letter, which provided:
Any dispute, controversy or claim between the parties arising out of or relating to this offer letter, all related agreements referenced herein, your employment with the Company or your separation from employment with the Company ("covered dispute"), is to be resolved through the Company's Assurance of Fair Treatment (AFT) process. Any covered dispute not amicably resolved through the AFT Process may then be submitted to arbitration as described below.
Any unresolved dispute will be settled by arbitration conducted in Philadelphia, Pennsylvania before a single arbitrator who shall be a former federal or state court judge, in accordance with the Employment Rules of the American Arbitration Association then in force.
Id. at *6-7.
While the Court acknowledged that the FAA "reflects a 'strong federal policy in favor of the resolution of disputes through arbitration,'" it also observed that the arbitration agreement must nonetheless satisfy the requirement under New Jersey law that "a waiver of one's right to sue 'must be clear and unambiguous—that is, the parties must know that there is a distinction between resolving a dispute in arbitration and in a juridical forum.'" Id. at *7, citing.  Atalese v. U.S. Legal Servs. Grp. L.P., 219 N.J. 430 (2014). The agreement at issue, in the Court's opinion, failed to meet the "clear and unambiguous" standard. Rather, the Court agreed with Irwin that the provision failed to clearly state that Irvin waived her right to a jury trial, because it did "not explain what arbitration is, nor does it indicate how arbitration is different from a proceeding in a court of law" and it "fail[ed] to specify that Plaintiff waived her right to pursue her statutory claims in a court of law." Id. at *7-8.  As the Court explained: "[n]owhere in the Agreement does it explain that arbitration is a waiver of the right to bring suit in a judicial forum."
The Court further rejected AWPC's argument that Irwin's subjective understanding of the contract terms was relevant to the validity of the agreement, but noted that regardless, Irwin had provided an uncontested declaration that she "'did not understand that the Agreement is meant to prevent [her] from filing a lawsuit against AWPC in court,'" and that she 'did not know the Agreement was meant to waive or deprive [her] of [her] right to a jury trial in court under the [CEPA] or any other statutory rights.'" Id. at *11-12.
This decision is another victory for employees against employers attempting to deprive them of their day in court. Fortunately for Irwin and similarly situated employees, employee arbitration agreements in New Jersey continue to be subject to a "clear and unambiguous" standard regarding an employee's waiver of their right to a jury trial.
En nuestra firma hablamos español. This blog is for informational purposes only. It does not constitute legal advice, and may not reasonably be relied upon as such. If you face a legal issue, you should consult a qualified attorney for independent legal advice with regard to your particular set of facts. This blog may constitute attorney advertising. This blog is not intended to communicate with anyone in a state or other jurisdiction where such a blog may fail to comply with all laws and ethical rules of that state of jurisdiction.