By: Chantal N. Guerriero, Esq. and Ty Hyderally, Esq.
March is Women's History Month, and this year, more than ever, it is important to recognize the growing need for women in the workforce. As a result of the COVID-19 pandemic, the progress made in terms of adding women to the workforce has been greatly hindered. According to a National Women's Law Center analysis of the Bureau of Labor Statistics monthly jobs report, 275,000 women dropped out of the labor force in January 2021 as a result of the pandemic. As such, the women's labor force participation rate was at a mere 55.8% in the month of February, the lowest since 1987. These numbers do not even include the unemployment rate, which is disproportionately high in women, and especially women of color.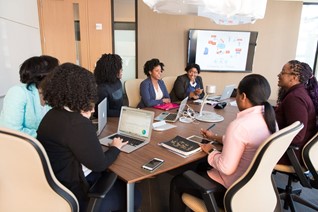 Fewer working women in the workforce not only expands the gender gap, but also weakens the economy even further. The McKinsey Global Institute predicts that adding women to the labor market could add $4.3 trillion to the gross domestic product (GDP) by the year 2025. Further, Bank of America predicts that achieving gender equality would increase the GDP by up to $28 trillion by that same year. In addition, companies with ethnic and racially diversified workforces, see returns of 8% higher. More diverse companies also see much lower earnings risk. There are many factors to examine in determining why women have decreased in the workforce, and how to add them back in.
Certain factors that have forced women out of the work force are circumstantial, based on occupation. Historically, prior recessions have affected the manufacturing and construction sectors. In contrast, the 2020 economic downturn has affected more jobs involving in-person activities, such as dining, teaching, providing child and health care, and entertainment. These are industries in which women have historically outnumbered men. As a result, women aged 20 and over have faced an unemployment rate of 6.1%, with over two million women having lost their jobs since February 2020. Further, Black and Latinx women have been suffering even more, with the number of working women of color dipping more in the past year than in the financial crisis.
In addition, women statistically bear a larger burden of taking care of children or elderly family members. As a result, much of the decline of women in the labor force is due to the lack of childcare available, as well as remote learning. Many women, especially mothers, have been forced to leave work because their children are not attending school in person, and thus, they must stay home with them. Mothers further do not want to leave their children with caregivers, because they fear potential COVID-19 exposure.
However, women should be aware that there are laws in place which protect their rights and their job security during these trying times. During the pandemic, certain laws were even expanded in order to adjust for the necessary time away from work. Up until December 31, 2020,[1] the Families First Coronavirus Response Act ("FFCRA"), required employers to provide paid sick leave, as well as expanded family and medical leave, to their employees. In New Jersey, the Family Leave Act was amended to provide 12 weeks of unpaid leave in any 24-month period to care for a child whose school has been closed due to COVID-19. Women who were terminated as a result of trying to exercise these rights may very well have legal recourse, and should be aware of their protections.
Additionally, with the significant drop in the rate of working women, employers must keep in mind that all workplaces must be equal opportunity environments. Equality is not a mere suggestion, rather, it is the law. The New Jersey Law Against Discrimination (LAD) and the New York Human Rights Law (NYHRL) prohibit discrimination and harassment based on gender. This means that employers may not discriminate against someone on the basis of gender not only during employment, but also during the hiring and firing process.
The addition of women in the workforce should be celebrated and encouraged throughout this Women's History Month and beyond. It is crucial to remember that decreasing the gender gap is necessary and beneficial for reaching equality, as well as boosting the economy. While the COVID-19 pandemic has negatively impacted the number of women in the labor force, it has also caused people to recognize the value of women in the workforce. With this in mind, it is hopeful that society will begin to progress forward and offer more employment opportunities for women in the near future.
En nuestra firma hablamos español. This blog is for informational purposes only. It does not constitute legal advice, and may not reasonably be relied upon as such. If you face a legal issue, you should consult a qualified attorney for independent legal advice with regard to your particular set of facts. This blog may constitute attorney advertising. This blog is not intended to communicate with anyone in a state or other jurisdiction where such a blog may fail to comply with all laws and ethical rules of that state of jurisdiction.
---
[1] The FFCRA requirements expired on December 31, 2020. There remain other laws in place, like the Family and Medical Leave Act, as well as the New Jersey Family Leave Act, under which women may exercise their rights.