By:  Jennifer Vorih, Esq., Tom Daley, and Ty Hyderally, Esq.
While it may seem that the pandemic precipitated the work-from-home movement, Americans had already been demonstrating the ability to be productive outside of the office pre-pandemic. The coronavirus pandemic disrupted global labor markets and accelerated existing trends toward remote work and e-commerce. Before the pandemic, new technologies and growing trade links provided businesses with alternatives to in-person business models. As the pandemic hit, employers were forced to initiate sweeping layoffs and furloughs, or adapt and implement remote work. Thousands of American companies successfully adopted remote work and are now realizing that this new approach to business might be here to stay, even after the pandemic subsides. Last year, a Growmotely survey (reported by Forbes) found that 74% of professionals expect remote work to become the standard model; a whopping 97% of employees do not want to return to the office full-time; and 61% of employees prefer working fully remotely. https://www.forbes.com/sites/ashiraprossack1/2021/02/10/5-statistics-employers-need-to-know-about-the-remote-workforce/?sh=63c2d46655df.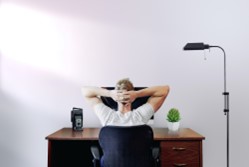 While employers have shown an ability to adapt to this new trend, regulatory bodies have also taken steps to accommodate the growing desire to work remotely. On March 21, 2022, the New Jersey Division on Civil Rights (DCR) issued proposed regulations that would allow employers to satisfy certain statutory workplace notice requirements via the internet, rather than the conventional bulletin board postings most offices had subscribed to. The proposal is to ensure that employees who are working remotely still receive the information included in DCR's official posters on employment protections provided by the New Jersey Law Against Discrimination (LAD) and the Family Leave Act (NJFLA), even if those employees are not physically present in the workplace where such posters are displayed. The current guidelines require that posters be displayed in places "easily visible to all employees [and applicants for employment]." N.J.A.C. §§ 13:8-1.2, -2.2.
The proposal would allow employers to satisfy notice requirements regarding the New Jersey LAD and NJFLA electronically. For the LAD, employers are already required to provide each employee with a written copy of the official employment poster each year, and upon request by any employee. The DCR wants to expand the current notice requirements to allow employers to post these notices on their websites, but only in the event that the employer's website is one to "which all employees have access and the employer customarily posts notices to affected employees or other affected individuals electronically on the site." The proposed rule provides employers with multiple options for transmitting such material. The proposal also allows for delivery of posters via email, or through a posting on an intranet site, should the employer operate one. This would apply to displays of LAD employment posters, housing posters, and public accommodation posters, as well as to NJFLA posters.
The proposed notice and distribution requirements are similar to the existing requirements for New Jersey's Conscientious Employee Protection Act (CEPA) and Gender Equity notices. Currently, employers with 50 or more employees are required to "conspicuously" post and distribute notices in the workplace that advise employees of their right to be free from gender inequity with respect to compensation, benefits or "privileges" of employment. N.J.S.A. § 34:11-56.12. Under CEPA, employers are required to "conspicuously display, and annually distribute to all employees, written or electronic notices of its employees' protections, obligations, rights and procedures." N.J.S.A. § 34:19-7.
Employers will likely welcome the change, but relaxed notice requirements could result in employees missing out on some essential notices if they do not carefully monitor their email and/or their company intranet.
While the DCR's proposal is limited to notice requirements informing employees of certain rights, employers do have other notice requirements that can adversely affect employees who might miss the notice posting. For instance, the New Jersey WARN Act requires employers to post notice of plant closings or mass layoffs 60 days prior to any action. Notice is also a crucial piece to enforcing any arbitration agreements or restrictive covenants. Currently, most of these notices are included in employee handbooks, but with DCR's new proposal and the current shift toward work-from-home employment, employees will want to monitor notice requirement developments and make sure to read carefully all emails from their employer.
En nuestra firma hablamos español. This blog is for informational purposes only.  It does not constitute legal advice, and may not reasonably be relied upon as such.  If you face a legal issue, you should consult a qualified attorney for independent legal advice with regard to your particular set of facts.  This blog may constitute attorney advertising.  This blog is not intended to communicate with anyone in a state or other jurisdiction where such a blog may fail to comply with all laws and ethical rules of that state of jurisdiction.