By: Tom Daly, Jennifer Weitz, Esq. and Ty Hyderally, Esq.
The New Jersey Legislature recently introduced a bill that would expand the time during which an employee who leaves a job for an offer of new employment, and who has the new offer rescinded through no fault of the employee, would be eligible for unemployment. Introduced to the Senate Labor Committee on February 14, 2022, S1606 proposes amendments to the "disqualification for benefits" section of the current New Jersey Unemployment Compensation Law's protected groups, N.J.S.A. §§ 43:21-1; 43:21-5(a).
Currently, N.J.S.A. § 43:21-5(a) disqualifies individuals from receiving unemployment benefits for the week the individual leaves work voluntarily without good cause attributable to such work, and for each week thereafter until the individual becomes reemployed. Individuals who leave employers in the agricultural industry, and even those who refuse an offer of continuing work after the completion of a contract, are also included in this disqualification.
The standing law exempts from disqualification any individual who leaves their employer for another job offer commencing within seven days after they leave their original employer, if the new employment has the same or better hours or pay than their old employment. If the original employer terminates the individual prior to the notice of leave date, then the seven-day period will commence from the specified notice of leave date. The proposed act adds a provision to the exemptions criteria and extends the time period between employment opportunities from seven days to ten.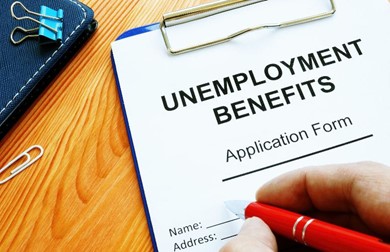 The proposed amendment comes in response to issues raised in McClain v. Bd. of Review, Dep't of Labor, where the New Jersey Supreme Court consolidated appeals from two individuals who had each accepted an offer of employment from a second employer only to have the offer rescinded before the start date — leaving each of them jobless. Both individuals filed for unemployment insurance benefits with the New Jersey Department of Labor, and both claims were denied. The question before the Court was whether in such a circumstance, the employee, whose offer is rescinded through no fault of their own, is entitled to unemployment benefits pursuant to N.J.S.A. 43:21-5(a).
In its opinion, the Court noted two Appellate Division panels had reached entirely different answers to that question based on divergent interpretations of N.J.S.A. 43:21-5(a). The first panel concluded that the acceptance of an offer of employment to commence within seven days after leaving the first employer — not the actual start of new employment — triggers the unemployment insurance benefit protections of N.J.S.A. 43:21-5(a). McClain v. Bd. of Review, 451 N.J. Super. 461, 464-65 (App. Div. 2017). Another panel concluded that the employee must actually begin working for the second employer within the seven-day period to be entitled to unemployment insurance benefits. Blake v. Bd. of Review, 452 N.J. Super. 7, 11 (App. Div. 2017).
The Court thought both holdings were the result of plausible interpretation of the statute, but that only the McClain panel's interpretation was consistent with the remedial purposes of the New Jersey Unemployment Compensation Law, an Act which the Court has "construed liberally in favor of allowance of benefits." McClain, 237 N.J. at 451, (quoting Yardville Supply Co. v. Bd. of Review, 114 N.J. 371, 374 (1989)). The Court concluded that the employees in both cases had earned the right to unemployment insurance benefits.
In its conclusion, the Court underscored the importance of upholding the Legislature's intent behind the Act, and emphasized that the Court views the Unemployment Compensation Law as "social legislation that provides financial assistance to eligible workers suffering the distress and dislocation caused by unemployment." Utley v. Board of Review, Dep't of Labor, 194 N.J. 534, 543 (2008). The essential objective of the Act "is to provide some income for the worker earning nothing, because he is out of work through no fault or act of his own."
Unemployment insurance benefit claims are a hot topic these days, as the pandemic has put many out of work. Claims are backed up, some people are still waiting on money, and in some instances, people were even overpaid. The pandemic also caused many state unemployment offices to stop in person appointments, causing additional strain on an already overloaded electronic system. New Jersey State Senators have renewed calls for reopening these offices for in person appointments, and a recent state bill proposes that the personal pay of the department's top leadership will be cut and used for a new fund for unemployed workers: https://www.insidernj.com/press-release/first-legislative-district-team-introduces-bills-require-reopening-njdol-unemployment-offices-cut-top-leaders-pay/.
Find more information on New Jersey unemployment insurance claims here: https://www.nj.gov/labor/myunemployment/.
For the latest schedule for certifying benefits by social security number, click here: https://www.nj.gov/labor/myunemployment/schedule.shtml.
To file a new claim, or to reopen an existing claim, click here: https://www.nj.gov/labor/myunemployment/before/about/howtoapply/applyonline.shtml.
En nuestra firma hablamos español. This blog is for informational purposes only. It does not constitute legal advice, and may not reasonably be relied upon as such. If you face a legal issue, you should consult a qualified attorney for independent legal advice with regard to your particular set of facts. This blog may constitute attorney advertising. This blog is not intended to communicate with anyone in a state or other jurisdiction where such a blog may fail to comply with all laws and ethical rules of that state of jurisdiction.