By: Jennifer Weitz, Esq. and Ty Hyderally, Esq.
The New York City Council recently passed a package of bills aimed at improving working conditions for app-based food delivery workers. The six bills contain common-sense provisions like granting delivery people access to restaurant bathrooms, limiting how far workers can be asked to ride their bicycles, and ensuring that tips get to workers, as well as requiring minimum payments per trip. (Pay requirements are already in place for drivers working for Uber and Lyft.) When passed, the bills will make New York the first major U.S. city to protect workers in this part of the gig economy. All bills are expected to be signed into law by Mayor Bill DeBlasio.
The legislation is especially significant as New York City has the largest and most competitive food delivery market in the country. Other cities and regions have, or have attempted to have, some protections for gig workers, but to date there is nothing as comprehensive as what New York City is seeking to provide. Seattle wants to make permanent a minimum wage standard for delivery workers that was introduced in the earlier part of the coronavirus pandemic. In August 2021, Chicago filed lawsuits against DoorDash and Grubhub, alleging unfair business practices. And California made news with a ballot proposition approved by voters in 2020 that would have allowed gig workers to be reclassified as independent contractors, and thus have certain protections, like minimum earnings; however, the proposition was ruled unconstitutional by a trial court.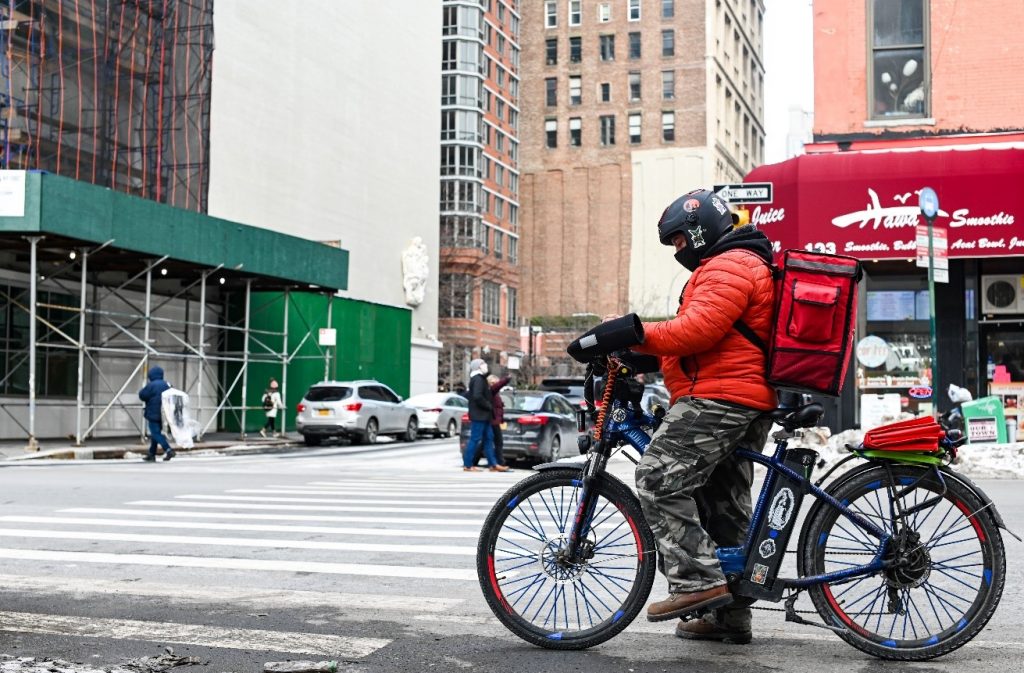 It is also noteworthy that the New York City bills are the result of efforts by labor organizations demanding better work conditions for their members. Groups like Workers Justice and Los Deliveristas Unidos were able to marshal public and legislative support after the pandemic demonstrated just how critical this sector of the workforce has become. By some assessments, online orders for home delivery more than doubled in the United States in 2020 (Forbes, Food Delivery Will Continue to Thrive After COVID Restrictions Ease, April 20, 2021), and one study focused on New York City food delivery workers found that 75% of workers joined the industry because they became unemployed during the pandemic. (Bloomberg, New York City to Pass Bill Boosting Pay and Working Conditions for Food Delivery Drivers, September 23, 2021.) Currently, the industry has over 80,000 workers.
Other numbers are more concerning. In a survey of 500 app food delivery workers, 42% had experienced being underpaid or not paid at all. (The New York Times, New York Passes Sweeping Bills to Improve Conditions for Delivery Workers, September 23, 2021.) Almost half of the respondents said they had crashed while delivering food, with 75% of those using their own money to get medical care. As well, 54% reported being robbed during a delivery and 30% reported being assaulted during the robbery.
While the package of bills will be a huge improvement over current conditions, delivery workers would still be classified as independent contractors, and therefore ineligible for workers' compensation or unemployment benefits. However, the bills also require New York City to conduct a study to figure out how much delivery workers should be paid. Representatives for the delivery workers hope this legislation will be a floor, rather than a ceiling, for providing basic rights, and that ultimately workers will gain the ability to negotiate work rules with their employers.
En nuestra firma hablamos español. This blog is for informational purposes only. It does not constitute legal advice, and may not reasonably be relied upon as such. If you face a legal issue, you should consult a qualified attorney for independent legal advice with regard to your particular set of facts. This blog may constitute attorney advertising. This blog is not intended to communicate with anyone in a state or other jurisdiction where such a blog may fail to comply with all laws and ethical rules of that state of jurisdiction.