By: Ty Hyderally, Esq., Jennifer Vorih, Esq., and Elana Burk
On June 22, 2021, Montclair's Township Council passed legislation instituting new protections for transgender and nonbinary people in the Township, reaffirming Montclair's support for LGBTQ+ individuals, including employees. The newly passed ordinance requires that, with certain exceptions, all single-occupancy bathrooms in Montclair must be gender-neutral. The goal of the legislation is to provide safe facilities for gender-nonconforming individuals. The implementation of unisex bathrooms helps to foster a more inclusive environment for LGBTQ+ people in public places where they may otherwise feel marginalized or be unsafe, and this new ordinance attempts to remedy a common issue among transgender individuals, as well as nonbinary people who do not identify with traditional "men" and "women" signs on restrooms. Montclair joins places like Hoboken and Princeton as municipalities which have taken it upon themselves to create protections at the local level in the absence of more far-reaching state or federal legislation.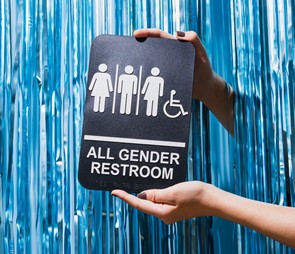 The ordinance requires that any single-occupancy bathroom within the Township be marked as gender-neutral, meaning that it only affects places which already have single-occupancy bathrooms, as opposed to businesses with multiple-stall bathrooms. The legislation applies to private businesses such as offices, shops, and restaurants, as well as municipal facilities and other places of public accommodation. Houses of worship, such as churches and mosques, are exempt from the requirement. Businesses are also able to apply for a waiver which will only be granted if Montclair's construction official verifies that implementing the change conflicts with other state laws or codes.
The vote on the gender-neutral bathroom bill was somewhat contentious and created a 4-3 split among the council. Opposing members cited concerns about the adequacy of the Township's dialogue with the business community regarding the impact and implementation of the bill, and expressed frustration that the Township would impose any hardship on businesses which have already struggled through the coronavirus pandemic.
Others have dismissed the notion that the bill creates an undue burden for businesses and argued that the majority of businesses in Montclair have raised no issues beyond seeking clarifications about the rule, or are otherwise already voluntarily in compliance with the rule. Supporters of the law also argue that the goal of codifying protections to create safer, more inclusive places for LGBTQ+ people in Montclair outweighs the minimally disruptive changes required of private businesses by the ordinance.
Under New Jersey law, the ordinance will take effect twenty days after it was passed on June 22. After July 12, businesses will have 180 days to comply with the requirement to mark any single-user bathrooms as gender-neutral. Non-compliant businesses may be fined up to $2,000 for each day that they fail to be in compliance with the ordinance.
Nonbinary and transgender employees in Montclair can now breathe a little easier, knowing that they will not face discrimination when using single-occupancy restrooms at work or at local business while on break.En nuestra firma hablamos español. This blog is for informational purposes only. It does not constitute legal advice, and may not reasonably be relied upon as such. If you face a legal issue, you should consult a qualified attorney for independent legal advice with regard to your particular set of facts. This blog may constitute attorney advertising. This blog is not intended to communicate with anyone in a state or other jurisdiction where such a blog may fail to comply with all laws and ethical rules of that state of jurisdiction.