By: Francine Foner, Esq., and Ty Hyderally, Esq.
Does your employer need to sign an arbitration agreement requiring that employment disputes be arbitrated, rather than decided in court, for it to be enforceable? That was one of the questions the Appellate Division recently answered in the affirmative, rejecting unpublished and out-of-state cases to the contrary, ruling that those case were not binding upon this case. In Hampton v. ADT, 2021 NJ Super. Unpub. LEXIS 764 (April 30, 2021), the Appellate Division found that both parties had to sign the employment contract containing an arbitration provision for there to be a "meeting of the minds" and create an enforceable arbitration provision.
Hampton became the Vice President of Business Development at MS Electronics/MSE Corporate Security, Inc., on February 16, 2016, pursuant to an employment contract that contained an arbitration provision. In August 2017, ADT purchased the assets of MSE, resulting in Hampton becoming an employee of ADT.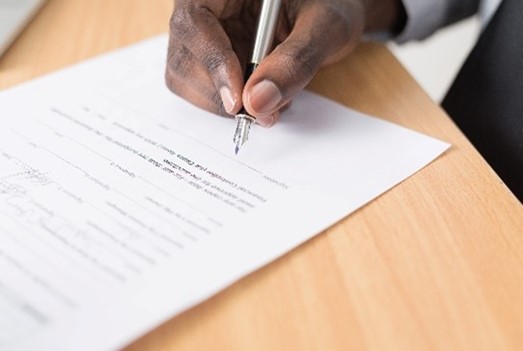 On March 30, 2020, Hampton filed a lawsuit against ADT and his supervisor alleging that he was terminated in violation of the Conscientious Employee Protection Act (CEPA), N.J.S.A. 34:19-1 to – 14.  Hampton alleged that he was terminated in retaliation for raising concerns with his supervisor and the company's Controller about their failure to submit the payroll reports required by the New Jersey Prevailing Wage Act, N.J.S.A. 34:11-56.25 to – 56.47.
Defendants moved to dismiss the suit and compel arbitration on the ground that Hampton had signed an employment contract containing an arbitration provision.  The Trial Court agreed, and ordered the matter to go to arbitration. However, the Appellate Division came to a different conclusion.
First, the Appellate Division found that the waiver language in the arbitration provision did not satisfy the applicable standard that such a waiver "must be clearly and unmistakably established." Id. at * 12, citing Atalese v. U.S. Legal Services Group, L.P., 219 N.J. 430, 444 (2014), quoting Garfinkle v. Morristown Obstetrics & Gynecology Assocs., P.A., 168 N.J. 124, 132 (2001). Rather, the Appellate Division opined that the waiver of being able to bring a lawsuit was not clear and unmistakably established, since the contract stated the "arbitration clause constitutes a waiver of [his] right to a jury trial" and that Hampton "expressly consent[s] to the personal jurisdiction of the state and federal courts located in New Jersey for any lawsuit arising from or related to [the Contract]." Id. at *14.
Second, the Appellate Division rejected the Trial Court's conclusion that the contract was mutually agreed upon and enforceable against both parties, despite that MSE had not signed the contract. The Appellate Division observed that the Trial Court had reached that conclusion in reliance upon unpublished and other non-binding opinions, which were not binding upon it.
The Appellate Division further noted that to enforce the arbitration provision which was not signed by MSE would create "a win-win situation" for MSE, as "depending on the adventitiousness of arbitration—MSE or its assignee could either disavow the arbitration clause if it preferred a jury trial or non-jury court proceedings, claiming it's not bound because of its omitted signature, or, as here, compel arbitration because arbitration suited it." Id *16.
Third, the Appellate Division found that the record demonstrated that MSE did not provide Hampton with an executed copy of the contract, and neither MSE nor ADT advised Hampton that the contract had been assigned to ADT.
Thus, the Appellate Division found that there were disputed material facts regarding "threshold issues of contract formation, assignment, assumption, and resulting enforceability" which required that the matter be remanded to the Trial Court to permit the parties to conduct further discovery on those issues. Id. at *20-21.
The Appellate Division further affirmed the Trial Court's rulings that the contract's provision requiring that Hampton pay one-half the cost of arbitration was unconscionable and severable from the remainder of the contract. In addition, the Appellate Division ruled that the contract's attempt to compel each party to pay their counsel fees and expenses was unenforceable, because that would violate the public policy underlying CEPA, which provides a right to a prevailing plaintiff to recover reasonable counsel fees and costs. Id. at *19-20.
This decision is a positive one for New Jersey employees, as it reinforces the need for Courts to make sure that there is a "meeting of the minds" before compelling an employee to waive his or her day in court. Further, the case rejects attempts to preclude employees access to arbitrate their claims, due to the expenses of arbitration and reenforces the important and significant recoveries available under statutes such as CEPA. The case also departs from Federal case law that has not considered the employer's signature to be mandatory to enforce an arbitration agreement. Thus, where there is such an arbitration provision involved, employees may want to try and avoid Federal Court if possible, which are more employer-friendly when it comes to compelling arbitration.
En nuestra firma hablamos español. This blog is for informational purposes only. It does not constitute legal advice, and may not reasonably be relied upon as such. If you face a legal issue, you should consult a qualified attorney for independent legal advice with regard to your particular set of facts. This blog may constitute attorney advertising. This blog is not intended to communicate with anyone in a state or other jurisdiction where such a blog may fail to comply with all laws and ethical rules of that state of jurisdiction.