By: Jennifer Vorih, Esq., and Ty Hyderally, Esq.
The New Jersey Appellate Division recently clarified that back-pay which is due to tenured teachers is not offset by unemployment benefits those teachers receive during an unpaid suspension, while tenure charges are pending. N.J.S.A. 18A:6-14 provides that, when filing tenure charges against an employee, a board may suspend that employee without pay for 120 days. If the tenure charges are not resolved within 120 days of being certified, the board must immediately resume paying the teacher their full pay. While unemployment benefits received during an unpaid suspension do not get deducted from a back pay award, other earned income during that suspension period does offset a back pay award:
However, the Board of Education shall deduct from said full pay or salary any sums received by such employee or officers by way of pay or salary from any substituted employment assumed during such period of suspension.
N.J.S.A. 18A:6-14
The Board of Education of the Borough of Bound Brook brought tenure charges against teacher Glenn Ciripompa in July 2014.  Ciripompa v. Bd. of Educ., 2021 N.J. Super. LEXIS 23 (App. Div.). Ciripompa earned wages as a bus driver and an umpire during his unpaid suspension, and also received unemployment benefits.  The tenure charges were not resolved within the requisite 120 days, and the Board was ordered to pay Ciripompa backwages for the period of March 10, 2015 through October 31, 2015.  The Commissioner of Education determined that Ciripompa's backpay should be offset not only by the wages he earned during that period, but also by the unemployment compensation he received.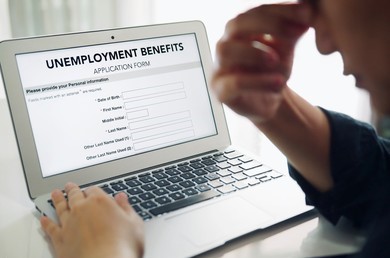 In analyzing N.J.S.A. 18A:6-14 to reach that conclusion, the Commissioner omitted crucial language. Rather than using the full language above, the Commissioner replaced the language of, "by way of pay or salary from any substituted employment," with an ellipsis. Ciripompa, at 10. Using this revised language, the Commissioner determined that "the statute plainly requires that 'any sums received . . . during such period of suspension' must be deducted from the back pay owed," and thus, "the unemployment benefits received by the petitioner during the 120-day unpaid suspension must be deducted." Id.
However, the Appellate Division held that the statute as written was clear, and did not allow for unemployment benefits to offset the backpay Ciripompa was owed. As the Appellate Division opined: "[i]f the Legislature wanted to authorize boards to deduct from back-pay calculations unemployment benefits, it could have and would have included "unemployment benefits" in the language of N.J.S.A. 18A:6-14." Id., at 11. "Applying the actual and complete statutory language, we find that the Commissioner erred in concluding that the Board could deduct the unemployment benefits from the back-pay calculation." Id., at 12.
This case offers another welcome example of straightforward and clear legal analysis by the Appellate Division. This is refreshing to observers, but, more importantly, it is helpful to teachers who are owed back pay.
En nuestra firma hablamos español. This blog is for informational purposes only. It does not constitute legal advice, and may not reasonably be relied upon as such. If you face a legal issue, you should consult a qualified attorney for independent legal advice with regard to your particular set of facts. This blog may constitute attorney advertising. This blog is not intended to communicate with anyone in a state or other jurisdiction where such a blog may fail to comply with all laws and ethical rules of that state of jurisdiction.