By Renee Jiang, Francine Foner, Esq., and Ty Hyderally, Esq.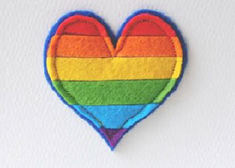 On February 9, 2021, New Jersey lawmakers introduced a marriage equality bill seeking to codify same-sex marriages in the state. (S3416). If passed, the bill will help ease the New Jersey LGBT community's concern that same-sex marriage might be overturned by the Supreme Court.
In 2015, the Supreme Court's ruling in Obergefell v. Hodges, 576 U.S. 644 (2015), established same-sex marriage throughout the United States. But Justices Samuel Alito and Clarence Thomas's dissenting opinion in the case and the new makeup of the current bench have led same-sex couples to worry that the decision might be overturned in a future case. It might not be a complete overrule, but is likely to take the form of limiting the benefits and value of marriage.
As the New Jersey bill states: "Same-sex marriage has been authorized in New Jersey by judicial decision since 2013." On September 27, 2013, Mercer County Superior Court Judge Mary Jacobson ruled in Garden State Equality v. Dow, 434 N.J. Super. 163 (Law Div. 2013), that New Jersey's exclusion of same-sex couples from civil marriage violated the equal protection guarantee of the New Jersey Constitution. However, this also means that the ability for same-sex couples to marry in New Jersey hangs on the Supreme Court's decision in Obergefell and a New Jersey trial court decision — both have the potential of being overturned.
If enacted, the law will ensure that even if the U.S. Supreme Court overturns Obergefell, or a higher New Jersey Court reverses Garden State Equality, same-sex couples' marriage will remain protected under New Jersey statute. In addition, the bill's gender-neutral language is intended to also safeguard the rights of nonbinary persons to marry.
In 2012, there was an attempt by the New Jersey Legislature to pass a bill that legalized same-sex marriage, but it was vetoed by then Governor Chris Christie. Hopefully, this time the bill will not only be adopted by the New Jersey Legislature, but signed into law by Governor Murphy. Then New Jersey's married LGBT couples will no longer have to live in fear that their marriages could be invalidated.
En nuestra firma hablamos español. This blog is for informational purposes only. It does not constitute legal advice, and may not reasonably be relied upon as such. If you face a legal issue, you should consult a qualified attorney for independent legal advice with regard to your particular set of facts. This blog may constitute attorney advertising. This blog is not intended to communicate with anyone in a state or other jurisdiction where such a blog may fail to comply with all laws and ethical rules of that state of jurisdiction.