By Francine Foner, Esq., and Ty Hyderally, Esq.
What is "implicit bias"? In a bill proposed in March 2020 to address implicit bias in prenatal care, New Jersey lawmakers defined "implicit bias" as "a bias in judgment or behavior that results from subtle cognitive processes, including implicit prejudice and implicit stereotypes, that often operate at a level below conscious awareness and without intentional control." The proposed law further defines "Implicit stereotypes" as "the unconscious attributions of particular qualities to a member of a certain social group, influenced by experience, and based on learned associations between various qualities and social categories, including race and gender." (A1079).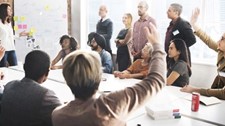 The concept of "implicit bias" became controversial after President Trump signed Executive Order 13950 on September 22, 2020, "Combating Race and Stereotyping." Trump's Executive Order 13950, despite its well-intended sounding title, prohibited federal contractors and subcontractors from engaging in diversity training that included the concepts of implicit bias or systemic racism, asserting that such concepts were "divisive." Among the flurry of Executive Orders signed by President Biden in the first days of his administration was Executive Order 13985, entitled "Advancing Racial Equity and Support for Underserved Communities Through the Federal Government," signed on January 20, 2021. Notably, this Executive Order revoked President Trump's September 22, 2020, Executive Order 13950. Even before Biden's Executive Order revoked Trump's controversial order, on December 22, 2020, the United States District Court for the Northern District of California issued a nationwide injunction prohibiting implementation of that part of Executive Order 13950 which, among other things, prohibited workplace training discussing concepts of unconscious bias or systemic racism. The injunction was issued upon the application of civil rights groups who argued that Trump's Order unconstitutionally infringed upon First Amendment protected speech and chilled vital diversity trainings.
In contrast to President Trump's use of his executive power to censor concepts such as "implicit bias" or "systemic racism" in anti-bias training by federal contractors, President Biden's Executive Order expressly recognizes the "unbearable human costs of systemic racism" in its policy statement, observing:
Entrenched disparities in our laws and public policies, and in our public and private institutions, have often denied that equal opportunity to individuals and communities. Our country faces converging economic, health, and climate crises that have exposed and exacerbated inequities, while a historic movement for justice has highlighted the unbearable human costs of systemic racism.
President Biden's Order will not only permit federal contractors to include in diversity training concepts of systemic racism and implicit bias, but encourages the same, consistent with existing laws.
New Jersey is ahead of the curve on encouraging implicit bias training through legislation. In an effort to address racial injustice in law enforcement, in August 2020, Governor Murphy signed into law a measure requiring that state and local police officers undergo implicit bias training as part of their cultural diversity training. N.J.S.A. 52:17B-77.13. According to the statement accompanying the law: "The training is to include understanding implicit bias and employing strategies to eliminate unconscious biases that shape behavior and produce disparate treatment of individuals based on their race, ethnicity, religious belief, gender, gender identity, sexual orientation, socioeconomic status, or other characteristics."
In January 2020, New Jersey lawmakers proposed a bill which would require health professionals providing perinatal care at a hospital or birthing center to undergo implicit bias training. Among the topics included in the training program would be "a discussion on health inequities and racial and ethnic disparities within the field of perinatal care, and how implicit bias may contribute to pregnancy-related deaths and maternal and infant health outcomes." (A1079).
It is likely that New Jersey will continue this trend and propose additional legislation mandating the discussion of implicit bias and systemic racism in other diversity training programs. Hopefully, the Biden administration's recognition of the importance of implicit bias training in the federal government will serve as guidance to states across the nation as a means to combat racial injustice.
En nuestra firma hablamos español. This blog is for informational purposes only. It does not constitute legal advice, and may not reasonably be relied upon as such. If you face a legal issue, you should consult a qualified attorney for independent legal advice with regard to your particular set of facts. This blog may constitute attorney advertising. This blog is not intended to communicate with anyone in a state or other jurisdiction where such a blog may fail to comply with all laws and ethical rules of that state of jurisdiction.