By Francine Foner, Esq., and Ty Hyderally, Esq.
As New Jersey's economy continues to gradually reopen and more New Jersey employees return to the workplace, COVID-19 cases are increasing in New Jersey. Acknowledging all of this, Governor Murphy has signed Executive Order No. 192 (the "Order"), which imposes a variety of mandatory health and safety protocols on most public and private employers, as of November 5, 2020.[1]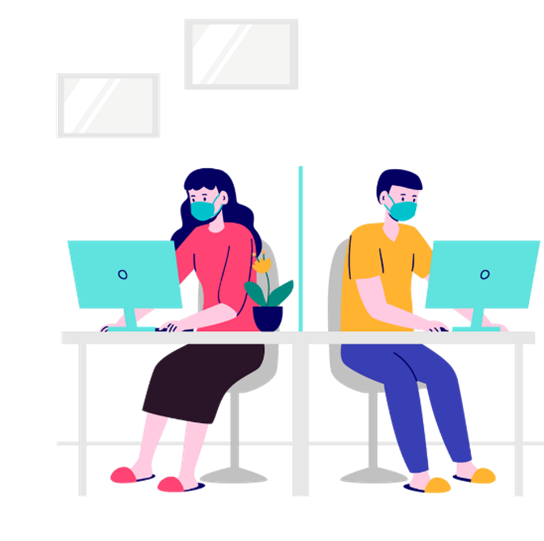 As expected, the required safety measures include social distancing and mask-wearing by employees, in accordance with Centers for Disease Control and Prevention ("CDC") recommendations, with some exceptions. In addition, employers must pay for and provide face masks to their employees. In work areas where 6' of social distancing is not possible, the Order mandates that employers ensure that employees wear masks as well as install physical barriers between workstations wherever possible. The Order also references an employer's obligation to provide employees with more protective equipment if the nature of the work requires that the employer do so.
Employers must also supply their workforce with hand sanitizer that contains at least 60% alcohol and sanitizing wipes that are approved by the United States Environmental Protection Agency for SARS-CoV-2 virus. In addition, employers are required to implement handwashing protocols to ensure frequent handwashing throughout the day, and to provide employees with break time in order to do so. While employers are not required to have employees wear gloves, employers who want to impose that requirement must supply employees with gloves.
The Order also mandates routine cleaning and disinfecting of all high touch areas, in accordance with New Jersey Department of Health ("DOH") and CDC guidelines, and more involved cleaning procedures following a known or potential exposure to COVID-19 in the workplace, as recommended by the CDC. In addition, the Order requires employees to conduct daily health checks of employees, such as temperature screening and health questionnaires, consistent with CDC guidance. However, employers are cautioned to ensure that such health check measures do not violate any confidentiality requirements of state and federal laws and guidance protecting employees with disabilities.
The obligations under the Order do not fall only on the employer. Employees may be denied entry to their worksite if they refuse to wear a face mask, as long as there is not a lawful reason for the refusal, such as a disability. In addition, employers may require employees to provide medical documentation to support their claim that they are unable to wear a face mask at work because of a disability.
The Order also directs the Department of Labor and Workforce Development ("DOLWD"), and DOH to coordinate in establishing a complaint procedure for employers who fail to comply with the COVID-19 health and safety protocols required by the Order. In addition, the DOLWD is directed to establish a program to provide employers and workers with compliance and safety training, and develop notices and informational materials to inform workers of their rights and employers of their obligations under the Order.
The Order carries substantial mandatory penalties for violations, treating a violation of the Order as a violation of, among other statutes, N.J.S.A. App. A:9-49 and -50, under which a person who violates that act "shall be adjudged a disorderly person and shall be subject to imprisonment for a term not to exceed 6 months or shall pay a fine not to exceed $1,000.00 or to both a fine and imprisonment, in the discretion of the court."
Although the Order does not provide for any private right of action to enforce the Order, it may provide a basis for a whistleblowing claim under New Jersey's Conscientious Employee Protection Act, if an employer takes adverse action against an employee for objecting to the employer's failure to comply with the health and safety requirements contained in the Order. If you believe that you have suffered an adverse employment action for your objection to your employer's failure to comply with the Order, you can call our office to schedule a free phone consultation to discuss your situation.
En nuestra firma hablamos español. This blog is for informational purposes only. It does not constitute legal advice, and may not reasonably be relied upon as such. If you face a legal issue, you should consult a qualified attorney for independent legal advice with regard to your particular set of facts. This blog may constitute attorney advertising. This blog is not intended to communicate with anyone in a state or other jurisdiction where such a blog may fail to comply with all laws and ethical rules of that state of jurisdiction.
---
[1] Subsection b. of Executive Order 192, relating to masking requirements, is not applicable to employers subject to Executive Order 175, which contains mandatory COVID-related measures applicable to public, private, and parochial preschool program premises, and elementary and secondary schools, including charter and renaissance schools. In addition, the health and safety protocol mandates provided in the Order not apply when they interfere with the discharge of the operational duties of first responders, emergency management personnel, emergency dispatchers, health care personnel, public health personnel, court personnel, law enforcement and corrections personnel, hazardous materials responders, transit workers, child protection and child welfare personnel, housing and shelter personnel, military employees, or governmental employees engaged in emergency response activities.